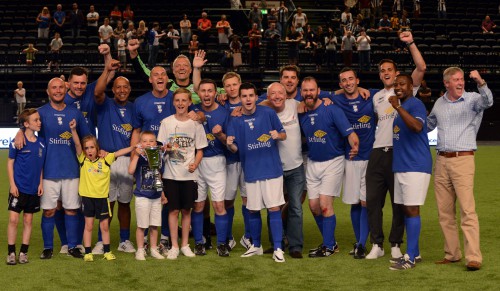 Stirling helped sponsor the Club Legends Cup event which has raised £50,000 for the Cure Leukaemia charity – worth over £500,000 in potentially life-saving drugs for leukaemia patients around the region. This fantastic figure was raised through ticket sales, shirt sponsorship, donations on the day and fan auctions.
This inaugural Club Legends Cup indoor football tournament was held at the LG Arena on Saturday 12 July 2014.
In front of 3,500 fans, Birmingham City, sponsored by Stirling, won the Club Legends Cup final on penalties against local rivals West Bromwich Albion to complete a thoroughly successful event which also included former stars from Aston Villa, Coventry City, Walsall and Wolverhampton Wanderers.
A host of star names were present including Matt Murray, Lee Hendrie, Darren Purse, Darren Moore, David Busst, Jorge Leitao and current Coventry City manager Steven Pressley.
Youngsters representing Coventry City won the FootieBugs Little Legends Cup against Wolves and Wolves Women won the Ladies Legends Cup against Coventry City Ladies.
Here is a video from the day:-
https://www.youtube.com/watch?v=lDLc2BLA86Y
The fan auctions raised nearly £15,000 for Cure Leukaemia and over twenty supporters became legends for the day as they lined up next to their heroes. Lee Jervis missed the crucial penalty for West Bromwich Albion in the final but still enjoyed the experience, "that was a terrible penalty but what a great day, I'm still pinching myself. It was brilliant, thank you so much!"
Cure Leukaemia's Chief Executive James McLaughlin said, "it's been a phenomenally proud day for the charity and everyone associated with Cure Leukaemia and I can't thank everybody enough. Without the players, fans, volunteers and sponsors we would not have been able to put on such a great event and the £50,000 raised will directly help leukaemia patients around the region."
Darren Purse skippered Birmingham City to victory and was integral in helping make the idea of the Club Legends Cup a reality, he said, "It was a brilliant day. Thanks to everyone who took part and especially the fans who played. It was all about making the fans feel like legends for the day and to raise a fantastic amount of money for a truly great charity in Cure Leukaemia and we succeeded on both
fronts. I'm delighted Blues were able to lift the Club Legends Cup as well!"
Cure Leukaemia is a Company Limited by guarantee (No. 4569174) and a Registered Charity (No. 1100154)