Roger Stirling Smith FIOD
Roger used his middle name to form Stirling in 2000, having 24 years of previous business experience, reaching Chairman & Managing Director level of a £13.9m turnover business, employing over 200 people. Roger has developed Stirling to provide business owners with a personal service to help find buyers for businesses for sale. From experience gained of selling two of his own businesses and latterly, other businesses sold through Stirling, Roger produced a well received "Guide to buying and selling businesses successfully" and also, a "Guide to maximising business values". Having created a comprehensive database of business owners, buyers and investors, Stirling is able to gain enquiries for businesses for sale, particularly from the engineering & manufacturing sectors. With fair and easy to understand terms and conditions, Roger has ensured that Stirling is able to offer SME clients a cost effective & flexible approach for when the time comes to sell.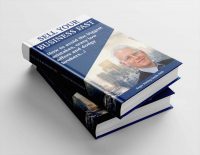 Roger has just had his new book published – "Sell your business FAST – avoid the biggest mistakes, crazy low offers and dodgy brokers!"
You can order your copy here.

"What I liked about working with Roger Smith of Stirling, is that we didn't get ripped off with fees and false promises. It was good to see someone who had a practical approach to business, someone who could actually understand our business and get results that didn't cost the earth!" Steve Marsh
"We needed to appoint a business broker to find a buyer for our business. Having considered various alternatives, we chose Roger Smith of Stirling Business Solutions Ltd where we appreciated his wide range of contacts (even within our specialist market), fair terms of business, including his honest and friendly approach in dealing with business. In particular, the sale memorandum document was produced on time and was clear and easy to understand. Roger helped to ensure that there was a sufficient number of interested parties and a deal was completed within our agreed time-scale." L Peters
"Roger provided an efficient, tailor-made service from the initial introduction to the eventual sale of my engineering company." Nick Hewinson
"Roger's thorough approach to selling my company meant that a buyer was found after only a few months. Despite some difficulties in the negotiations, Roger persevered in bringing the sides together and encouraged frequent discussion, resulting in a deal that both sides are pleased with more than a year down the line." J Patrick
"Roger is personable, knowledgeable and very easy to work with. I have no doubts about his expertise in the buying and selling of businesses……" P Bayliss
"Roger Smith has been a loyal customer of my internet service provider business for nearly 15 years. During that time – I have got to know roger extremely well – so what follows is borne out of true long term experience and working with Roger through many challenging situations which is where the true person reveals themselves Roger is a first class businessman and – In my long term considered view – conducts business to the highest professional standards and is totally trustworthy in the way he operates in his area of buying and selling businesses . I would have no hesitation in recommending his services. Moving on to a personal point of view, again, having known Roger for 15 years, he is an outstanding and very sociable person with extremely varied interests in life he is a keen cyclist thinking nothing of cycling 100 miles or so and also is a fully qualified train driver for both diesel and steam locomotives – driving them regularly on the Severn Valley Railway ' Roger is, put quite simply the ideal person to have alongside you in any social ( and of course business) gathering. It is this rare mix of being excellent at both "business and social life" that makes Roger an indispensable part of any operation. And fun to be with! What more could one ask ?" Eric Churchyard, Managing Director, Severnserve Ltd – eric@severnserve.net